You asked, we listened. Lammes Candies now offers delivery on-demand to our Austin-area community!
Order by 3PM for same-day service ● $20 off qualifying orders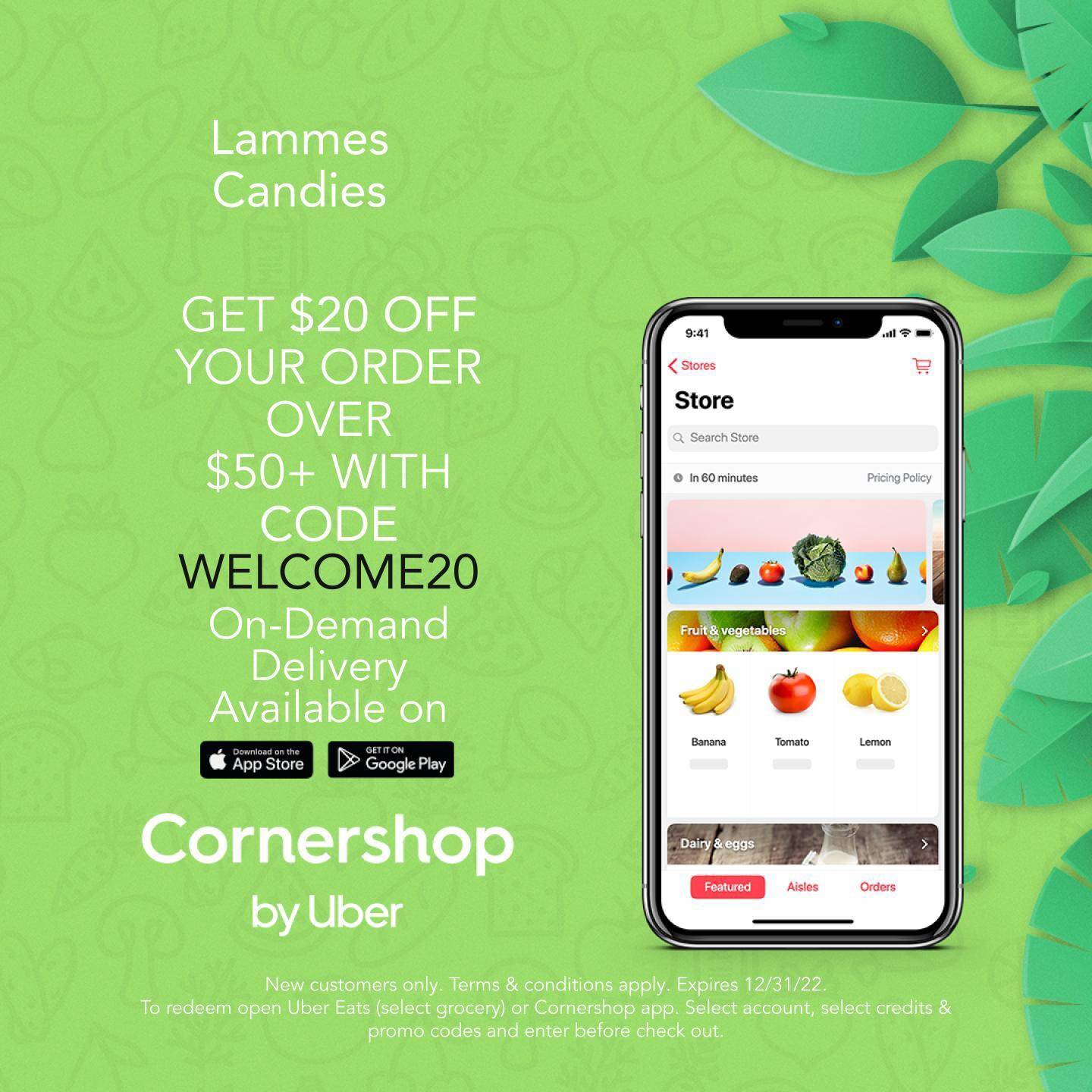 1. Open the Cornershop app and enter your address
2. Browse our candy and add products to your cart
3. Choose your delivery window and pay
That's it! Cornershop will handle your delivery and provide order updates in the app.
---
What is Cornershop by Uber?
Cornershop is a 3rd party delivery service that allows shoppers to browse and purchase products (such as Lammes Candies confections) from different stores and have them delivered to qualifying zip codes. You can download the Cornershop app for iOS or Android, or simply order your products through the Cornershop website. Click here for the Cornershop Terms of Service

After opening the app, you will need to enter the delivery address to see if you are within the delivery zone. The delivery zone is set and controlled by Cornershop. If you are within the delivery zone, you will see Lammes Candies listed in the Stores list to choose. Now, start adding products to your cart and checkout! A Cornershop Shopper will have them at your door in no time. If your order is placed by 3 PM, it should be delivered same-day.


Who do I contact for issues/questions about my Cornershop order?
You will need to contact Cornershop Customer Service for questions about your Cornershop order. Lammes Candies cannot look up your Cornershop order information or make changes to an existing order.
What are the Cornershop delivery fees?
Standard delivery fees:
Orders under $35: $9.99
Orders between $35 and $74.99: $5.99
Orders between $75 and $149.99: $3.99
Orders over $150: $0
Does the WELCOME20 promotion for $20 off apply to online Mail Orders or in-store purchases?

No, the WELCOME20 coupon code is an introductory offer that applies to purchases made through the Cornershop app only.
What is the difference between ordering on your website and through Cornershop?
Cornershop is an on-demand local delivery option for customers in the Austin/Round Rock area only. Our website offers worldwide shipping as well as business gifts, fundraising, and multiple-recipient shipping. There are items available through our website that are not offered in Cornershop, such as our Executive Sweet Stacks, custom boxes, case packs, and chocolate covered strawberries. If you are unsure as to which option you should go with, feel free to contact us at mailorder@lammes.com or call (512) 310-1885 weekdays from 8 AM to 5 PM CST.