Austin's best premium sweets for those you love most.
If chocolate is the way to their heart, be sure to indulge in the good stuff.
Your Valentine deserves the best...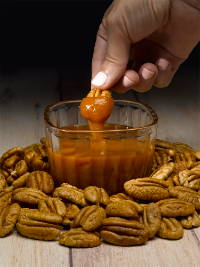 Premium, responsibly-sourced ingredients
Expertly crafted sweets made locally in Austin, TX.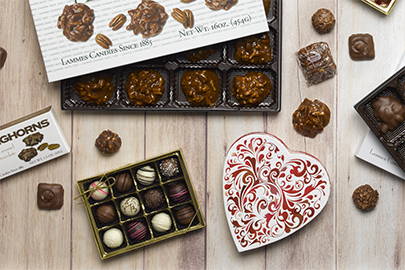 Beautiful gifts packaged to perfection
Feb. 13 & 14
Chocolate Covered Strawberries
Fresh, juicy strawberries totally enrobed in premium milk chocolate. Complete with an elegant gift box.
A perfect treat to share, or an enticing indulgence for yourself.
Follow us @lammes1885 on IG for a chance to be featured and win some free candy.
Where can I buy Lammes chocolate covered strawberries for Valentine's?
On February 13th & 14 Lammes Candies' highly-anticipated milk chocolate covered strawberries will be on sale in our 5 retail stores. First come, first serve.
Our Valentine's berries are pre-weighed & pre-packaged in a decorative gift box. They will be on sale for $29.56 per carton, and will include a dozen or baker's dozen (depending on weight). We have not raised prices since 2015 and continue to use only premium, high-quality chocolate. You and your loved ones deserve the best!
Can't make it Feb 13th or 14th? We sell them throughout the year! Download the 2020 sales dates here.
Do you deliver the chocolate covered strawberries?
No, at this time we do not ship or locally deliver our chocolate covered strawberries. We have customers who choose to use the app Favor Delivery if they cannot make it to a store, but please note that we do not have an official partnership with Favor and cannot set up the delivery for you.
Do I really need to stand in line, or can I pre-order and pickup?
Our chocolate covered strawberries are first come, first serve. At this time we are not set up to take pre-orders or hold them.
What do you do with leftover chocolate covered strawberries?
In the event we have extra chocolate covered strawberries, we will give back to the local community and donate to fire departments and hospitals.
Are you likely to run out of chocolate covered strawberries?
We are careful to produce enough chocolate covered strawberries to meet demand, and will be replenishing each store with fresh berries throughout both days.