Premium candy gift assortments inspired by the Lone Star State.
You could say we've always had a soft spot for Texas. This collection of gift assortments reminds us of cowboys & cowgirls, bluebonnets & longhorns, small towns & big cities, and dancin' under a big open sky.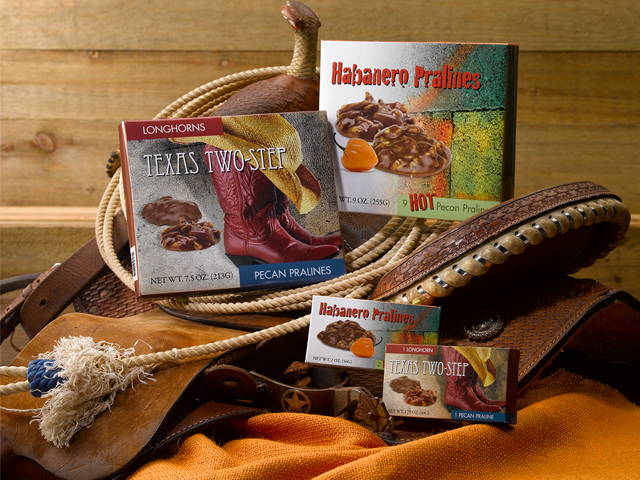 New! An assortment featuring our best-selling Chewie Pralines and chocolate nut clusters in an Austin-inspired 9 piece box.
A classic Texas duo with 6 milk chocolate Longhorns and 3 Chewie Pralines. This delightful pair will lead you two steps to sweet satisfaction!
The ultimate Longhorn Lover's delight. Savory Texas pecans & signature caramel, 3 pieces each in our delicious milk, dark, and white chocolate.
Can't decide between pecans, almonds, or cashews? Well you can have it all! You'll get 3 pieces each of milk chocolate Longhorns, Choc'Adillos and Cashew Critters.
Our Chewie Pralines with one heck of a habanero pepper kick! This box has 9 HOT pecan pralines, a real treat for a daredevil with a sweet tooth.
Lammes premium milk chocolate wrapped in the sights of Texas, including: bluebonnets, Longhorns, Armadillos, and the Texas Flag.
Texas style gifts, and handsomly wrapped to boot! Impress your clients, partners, and co-workers with the true flavors of the Lone Star State.
Our legendary confections are made with high-quality ingredients, and we're dedicated to responsible sourcing within our community. As a certified member of the GoTexan program, Lammes Candies exclusively supports Texas pecan growers, a commitment we've honored for more than a century.
These little packages make a BIG impression.
Our 2 piece boxes are very popular for conferences & events.