Austin's hometown candy store and home of the world-famous Texas Chewie® Pecan Praline. Curbside service available at select locations. A face mask is required for in-store shopping.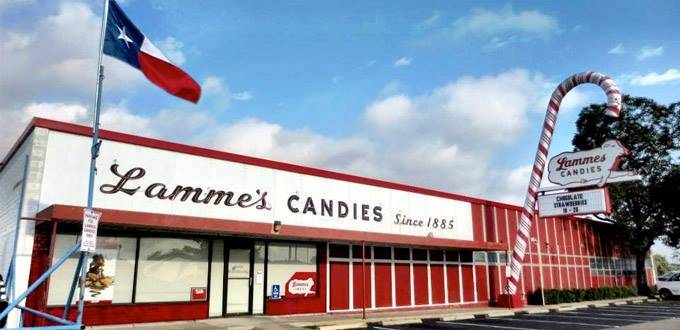 ---
---
Lammes Candies at Barton Creek Mall is currently closed. We are proud to have been a tenant since the mall's grand opening in 1981, however, our lease expired and we opted to close this location at this time. We urge our South Austin customers to visit Lammes on Airport Blvd or our newest location at Hillside Center. To stay up-to-date, sign up for our emails here and follow us on Instagram @lammes1885. We appreciate your support.
---
---
Do you have curbside pickup?
In accordance with the CDC guidelines regarding COVID-19 and social distancing, select locations are offering curbside pick up for our guests. To place a curbside pick up order, call one of our participating retail stores below. (Note: This retail store service is available as of 6/11/2020 and is subject to change.)
Airport Blvd: (512) 453-2899
Hillside Center: (512) 645-2960
The Market at Round Rock: (512) 388-1885
Are visitors allowed in-store?
At this time guests are allowed in our retail stores, but a properly worn face mask is required to enter. If you are unable to wear a face mask, you will need to place a curbside pickup order over the phone. To do this, call our Airport Blvd, Hillside Center, or Round Rock Market stores. Our mall locations are unable to accommodate curbside pickup orders.
What if I cannot wear a face mask for health reasons?
Per the ADA guidelines and to assist customers who have a personal or medical aversion to wearing face masks, we offer curbside service. Please call our Airport Blvd, Round Rock Market, or Hillside store directly and they will be happy to take your order by phone and bring the candy out to your car.
The Cities of Austin and Round Rock as well as Travis County have mandated that all businesses refuse service to any customer not properly wearing a face mask. It is now a civil penalty to allow unmasked visitors into a store in Travis County, the City of Austin, or the City of Round Rock.
It is always our intention to provide a friendly, clean, and safe environment for both our customers and our staff. We appreciate your understanding.
Can I have a gift delivered?
Yes! We offer mail order shipping of our website and catalog items directly to your door. You can place an order here on our website or by phone at (512) 310-1885.
Orders placed after 8 AM CST will generally ship the next available ship date. Orders shipping within Texas will typically be delivered in 1-2 business days from the time it ships. Orders outside Texas but within the USA take 2-5 business days for delivery. We are unable to estimate delivery time for orders shipping outside the country.
At this time we cannot ship chocolate covered strawberries, or other retail-only sweets such as bulk items and fudge.
How do I purchase chocolate covered strawberries?
Can I customize a box of candy?
Absolutely! In addition to our gift boxes, we have a bulk counter where you can select from a variety of items. Either purchase your favorites by the pound, or customize a box. Available in our retail stores only.