Authentically Texas sweets for employee thank you's, client appreciation, events & more.
It's good business to send Lammes Candies. Our confections are the classic choice for impressing even the most discerning tastes, and will carry an extra touch of thoughtfulness that your friends, family, and business associates deserve.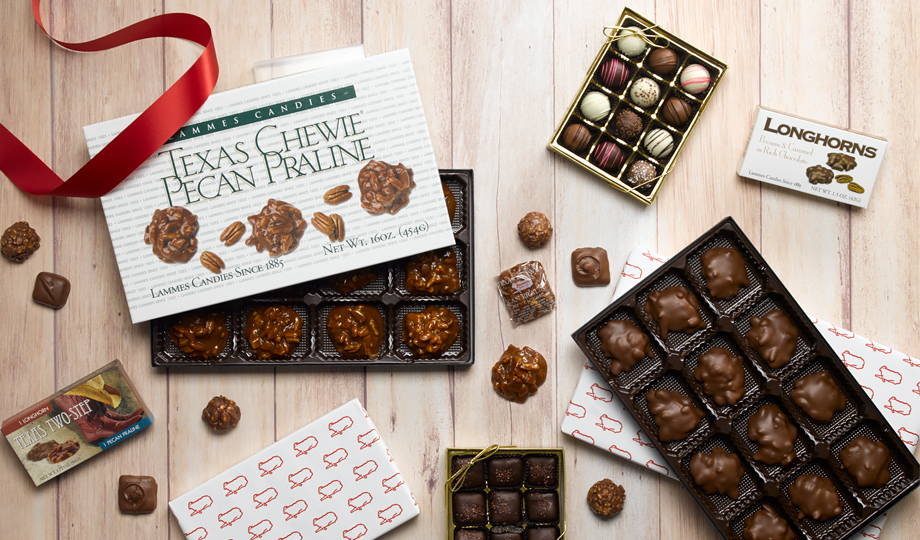 Spend $500 - $999.99, SAVE 10%
Spend $1,000 - $2,499.99, SAVE 15%
Spend $2,500 or more, SAVE 20%



Preparing in advance? Place the order today and we can delay shipping days, weeks, or even months later so that your gifts arrive fresh and on time!
Whether you're sending gifts to a handful of people or thousands, our team is experienced in processing large orders and shipping them on time with care. No order is too big or too small!
Multiple-Recipient Shipping
---
Sending gifts to more than 10 people? Save time and e-mail us your mailing list & candy selections, we'll take care of the rest! You can either download our order form below or email a spreadsheet with your mailing addresses to mailorder@lammes.com
---
When you order our tasty confections by the case pack. Must ship to 1 address. Great for office parties!
---
Looking for an even more thoughtful presentation? Consider one of our customization options for the holidays!
"Just sent our list to the Lammes Mail Order Department and they took care of everything! Excellent communication and customer service. Highly recommend Lammes Candies!"
Jill | Ogletree Deakins
via Trustpilot
"Terrific service for our wedding welcome gifts. The guests LOVED the pralines. I met them at their warehouse to pick up the boxes, which they had ready to go. Couldn't be nicer! Thank you for your advice. They were a perfect supplement to the bags."
Elissa
via Trustpilot
"Amtex Scale proudly purchases Lammes Pralines each year for our many customers! Ordering and picking them up is as easy as 1, 2, 3! No one is disappointed. Our customers ask for them every Christmas. And if we run out.........Lammes has us covered"
Teri C. | Amtex Scale
via Trustpilot
---
Want Some Lammes "Business Bites" in Your Inbox?
---
Business & Event Gifting FAQs


We sure do! Our discounts apply to the candy total. No coupon code needed.
Spend $500 - $999.99 --- SAVE 10%
Spend $1,000 - $2,499.99 --- SAVE 15%
Spend $2,500 or more --- SAVE 20%
If Shipping to Multiple Addresses:
There will be a shipping charge for each mailing address. Our shipping rates are set by UPS and USPS, and those carriers set their rates according to the package weight and destination. To find out what the shipping charges will be, you can either enter the order online, or e-mail your addresses and gift selections to mailorder@lammes.com and we'll happily pull those for you.
Shipping Pro Tips:
If you have multiple recipients who work/live at the same address, we can combine the gifts into a single shipment to save money.

Typically shipping rates for commercial addresses are less expensive than a residential address. If you are looking to save money on shipping, we suggest mailing the gifts to an office when possible.

Don't forget to confirm the suite, apartment, unit, building, or floor number! Forgetting this information will more often than not result in a returned package, which will result in additional costs if you decide to update the address and reship.

If you are in the Austin area, or visiting Austin for an event, we can set up same-day delivery straight to your hotel/venue/office via local courier for a $25 flat rate fee. Please note that shipping within Texas only takes 1 to 2 business days, but this is a great option if you need something fast!
If Picking Up:
If you are in the Austin area and are able to pick up your order from our North Austin office, there is no additional fee!
Can you add my greeting/business cards?
Absolutely! By default we will include your personal message greeting for each gift recipient, but you can also mail us your cards, and we will be sure to include them with each gift. You can also address each card individually.
Typically we need to receive your cards no less than 2 full business days before the order is set to ship, but if you are in a time crunch we will do our best to accommodate!
What happens if my gift is returned to you?
If a package does not reach its destination because of an incorrect address, the receiver has moved, or for other reasons that are outside our control, UPS/USPS will return it back to Lammes Candies headquarters. The carriers charge us $17 for the return alone, and historically we have not passed on this cost to the customer. If your gifts are returned, we will notify you and offer to reship the gift for a flat fee of $15 per package. This fee helps to cover the cost of repackaging your gift in new corrugation, processing your return, and reshipping the package.
We do not offer discounts on shipping or returns, it is the customer's responsibility to provide a current and complete address that includes any applicable suite, apartment, and unit numbers.
If you are in the Austin area, you may pick up any returns from our headquarters/distribution center located in Round Rock.
Can I try a sample before ordering?
Due to the cost of shipping and handling, we can only offer samples for those located in Austin at this time.
If you are interested in business gifting with Lammes Candies and are located in the Austin area, simply let us know what you're looking for and we'll bring some samples to your office! Request an appointment by e-mailing us at mailorder@lammes.com.
Does Lammes have a Fundraising program?