Texas-style sweets for employee thank you's, client appreciation, events & more.
Shop locally with a company you can trust. Since 1885 we've been family owned & operated, making legendary sweets using premium ingredients and heritage techniques. This holiday season, treat your friends, family, and co-workers to a real taste of the Lone Star State.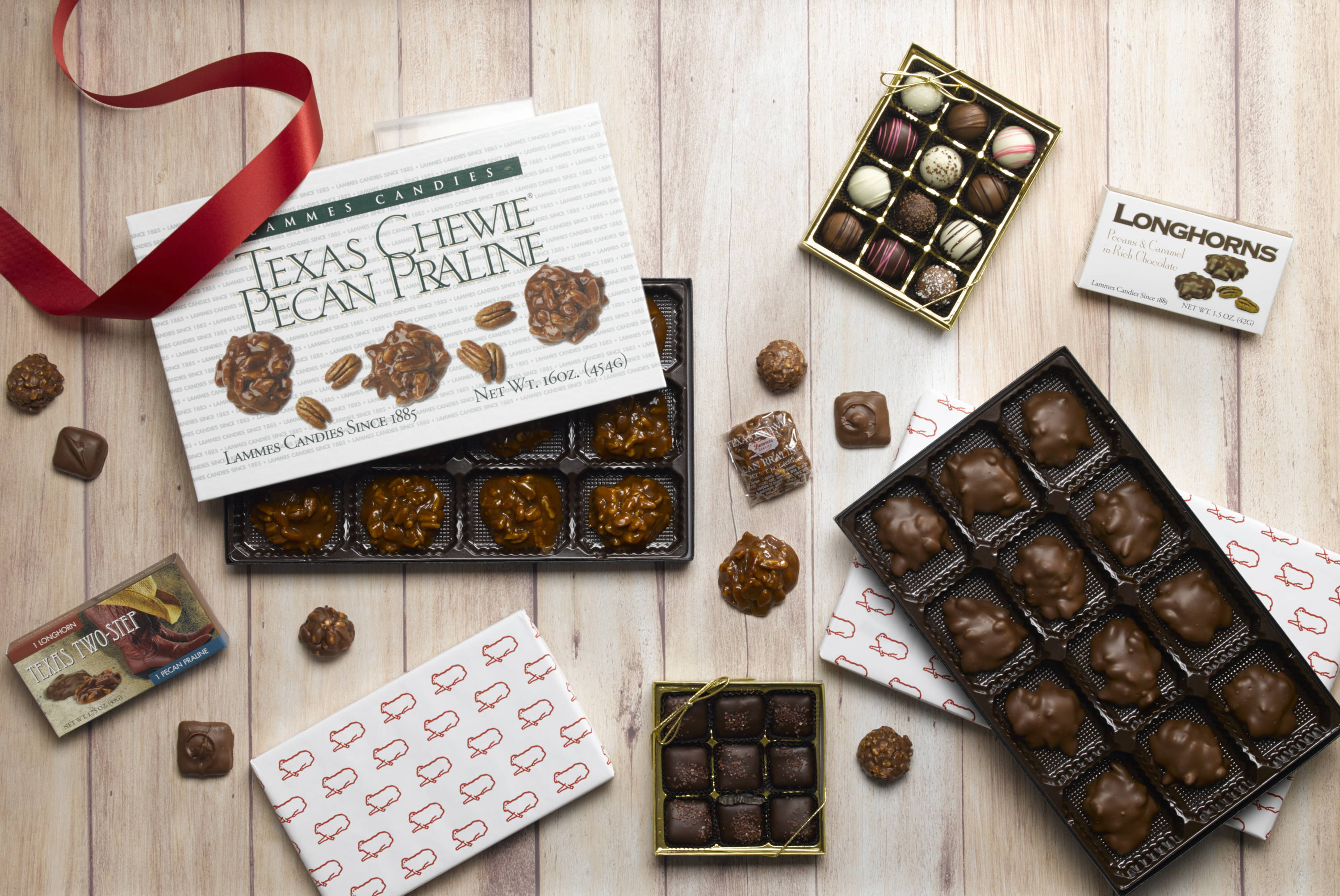 Spend $500 - $999.99, SAVE 10%
Spend $1,000 - $2,499.99, SAVE 15%
Spend $2,500 or more, SAVE 20%



Preparing in advance? Place the order today and we can delay shipping days, weeks, or even months later so that your gifts arrive fresh and on time!
Whether you're sending gifts to a handful of people or thousands, our team is experienced in processing large orders and shipping them on time with care. No order is too big or too small!
---
Your time is valuable, we're here to help with the details. When you send us your candy selections & mailing addresses, we'll enter the order then send you an order summary before taking payment. Either e-mail us a list you already have, or download our volume gifting order form below for speedy processing.
---
---
This page is coming soon!
Christmas will be here in...
For delivery by Christmas Day, place your order by Dec. 13.
If customizing your gifts, contact us no later than Nov 25.
---
Have questions about our business gifting products or services? Send us an e-mail with a bit about what you're looking for, and we'll be in touch within 1 business day!
Business & Event Gifting FAQs


We sure do! Our discounts apply to the candy total. No coupon code needed.
Spend $500 - $999.99 --- get 10% off
Spend $1,000 - $2,499.99 --- get 15% off
Spend $2,500 or more --- get 20% off
If Shipping to Multiple Addresses:
There will be a shipping charge for each mailing address. Our shipping rates are set by UPS and USPS, and those carries set their rates based on the package weight and destination. To find out what the shipping charges will be, you can either enter the order online, or e-mail your addresses and gift selections to mailorder@lammes.com and we'll happily pull those for you.
If Picking Up:
If you are in the Austin area and are able to pick up your order from our North Austin office, there is no additional fee!
Due to the cost of shipping and handling, we can only offer samples for those located in Austin at this time.
If you are interested in business gifting with Lammes Candies and are located in the Austin area, simply let us know what you're looking for and we'll bring some samples to your office! Request an office visit by e-mailing us at mailorder@lammes.com.