Make a Lasting Impression
Stay top-of-mind with the finishing touches that reinforce your brand. Add your logo to our most popular confections, or even contact us about customizing your own candy stack!
Please allow at least 1-2 weeks of lead time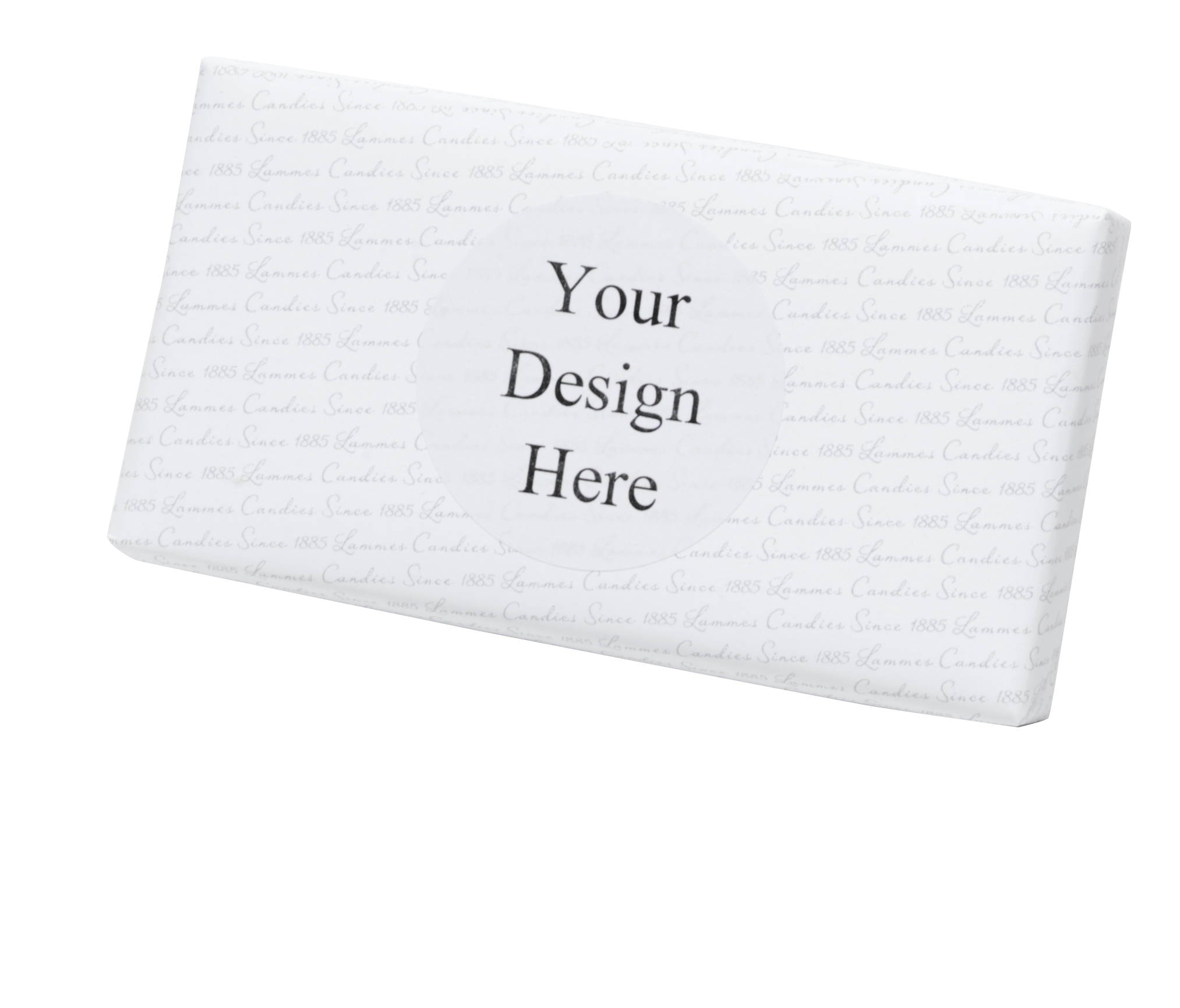 Add a round 2" sticker to a 2-piece containing your choice of:
~ 2 Pralines ($4.35 each)
~ 2 Longhorns ($4.35 each)
~ 1 Praline & 1 Longhorn ($4.95 each)
The box itself is white with a subtle "Lammes Candies Since 1885" print.
A 48 box minimum per shipping address is required.
Add a custom card to our 6-piece Pralines or Longhorn postcard boxes. Minimum purchase of 12 required.
~ Praline Postcard Box ($18.75 ea)
~ Longhorn Postcard Box ($16.75 ea)
Send us your custom printed cards and we can insert them. Click to download artwork dimentions.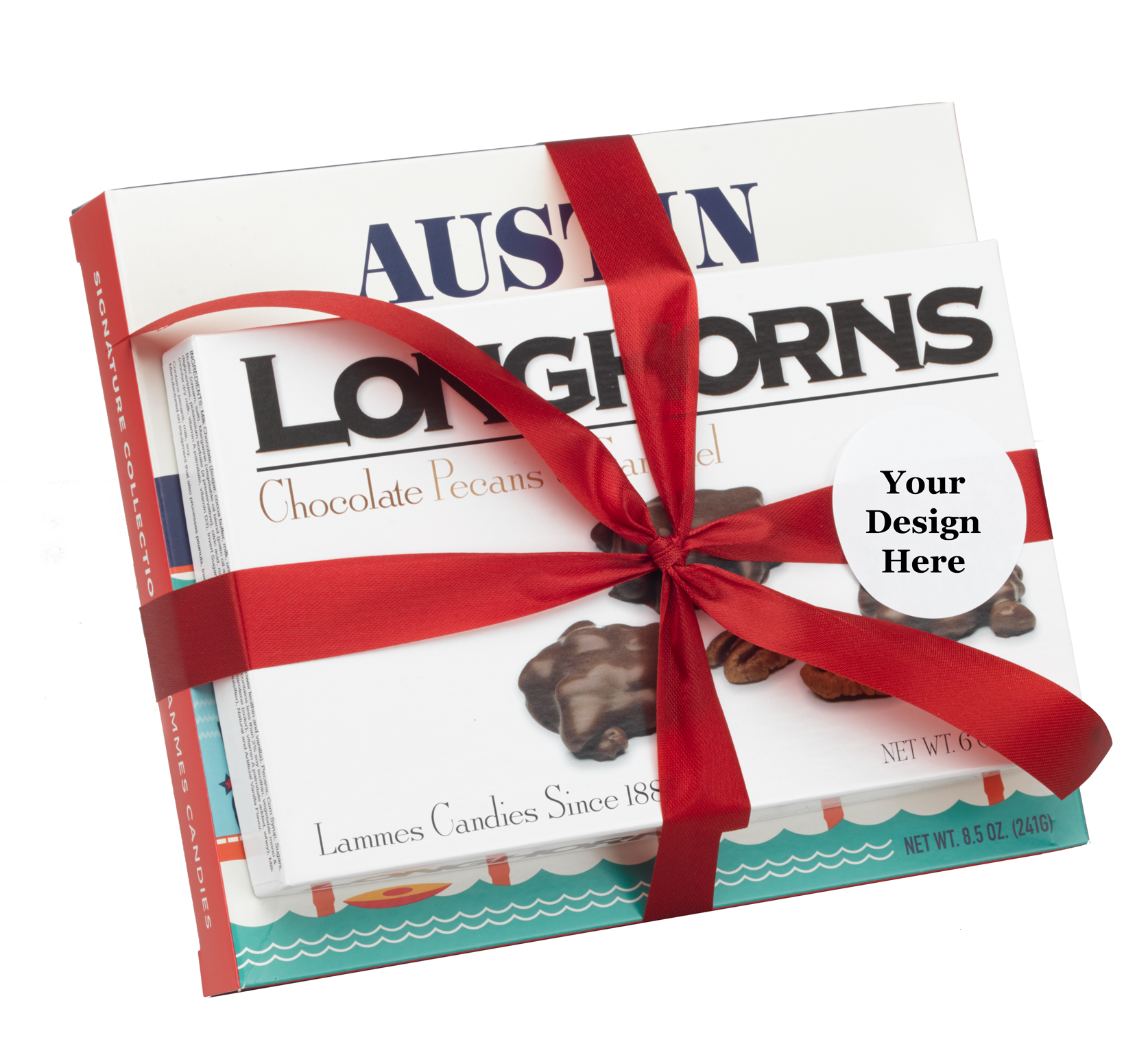 Love the idea of sending multiple boxes of candy but want to add a personal touch? Let us know what you're looking for candy and/or budget wise, and we'll help build your perfect candy stack!

~Ribbon & logo sticker ($2.95 per stack)
~One-time setup fee: $35
A 12 stack minimum purchase is required.
Customization Quote Request
Can you include my business cards/greeting cards with each gift?
Of course! You can mail your personal cards to our corporate office in Austin and we will be sure they are included with your mailed gifts. You can even personally address them and we will match them up with the correct recipients. This is all at no extra charge.
The address to our corporate office will be provided to you via email.
Are customizations included in the volume discount?
Our volume discounts apply to the candy only and do not include logo stickers, ribbon, or set-up fees.
What lead time is needed for custom gifts?
The average lead time for custom orders is 1-2 weeks from the day the order is placed. This is just an estimate. Once we receive your candy of choice and number of recipients, an updated lead time will be provided. Please complete the request form above or email us directly at mailorder@lammes.com to get started.
Can I send you my own ribbon?
Yes! If you'd like us to personalize your gifts using your own ribbon, we will only charge you for the logo sticker and the one-time set up fee.
What are your customization minimums?
Logo sticker & Ribbon = 12 box minimum
Custom 2-Piece = 48 box minimum
Postcard Box = 12 box minimum
Custom Candy Stack = 12 stack minimum
How do the custom label stickers work?
To customize your 3" round logo sticker, please email your hi-res logo to mailorder@lammes.com. It will be printed in color on a white sticker.
Can I have the 2-Piece Boxes shipped to multiple addresses?
Our custom 2-piece boxes can be shipped to multiple addresses as long as we're sending at least 48 boxes per address. If you would like to create a custom candy stack that includes a single custom 2-Piece box, please contact us by filling out the request form above or sending an email to mailorder@lammes.com.
(Note: our non-custom 2-piece boxes are only sold in quantities of 6 and 48. We would not be able to create a candy stack using those particular boxes.)
Have more questions?
We're happy to help!