Thank you to everyone who pre-ordered! Extra cartons will be available for sale at each store on Friday, Oct. 16 starting at 12 P.M. These cartons are $24.95 each and first-come, first-serve only.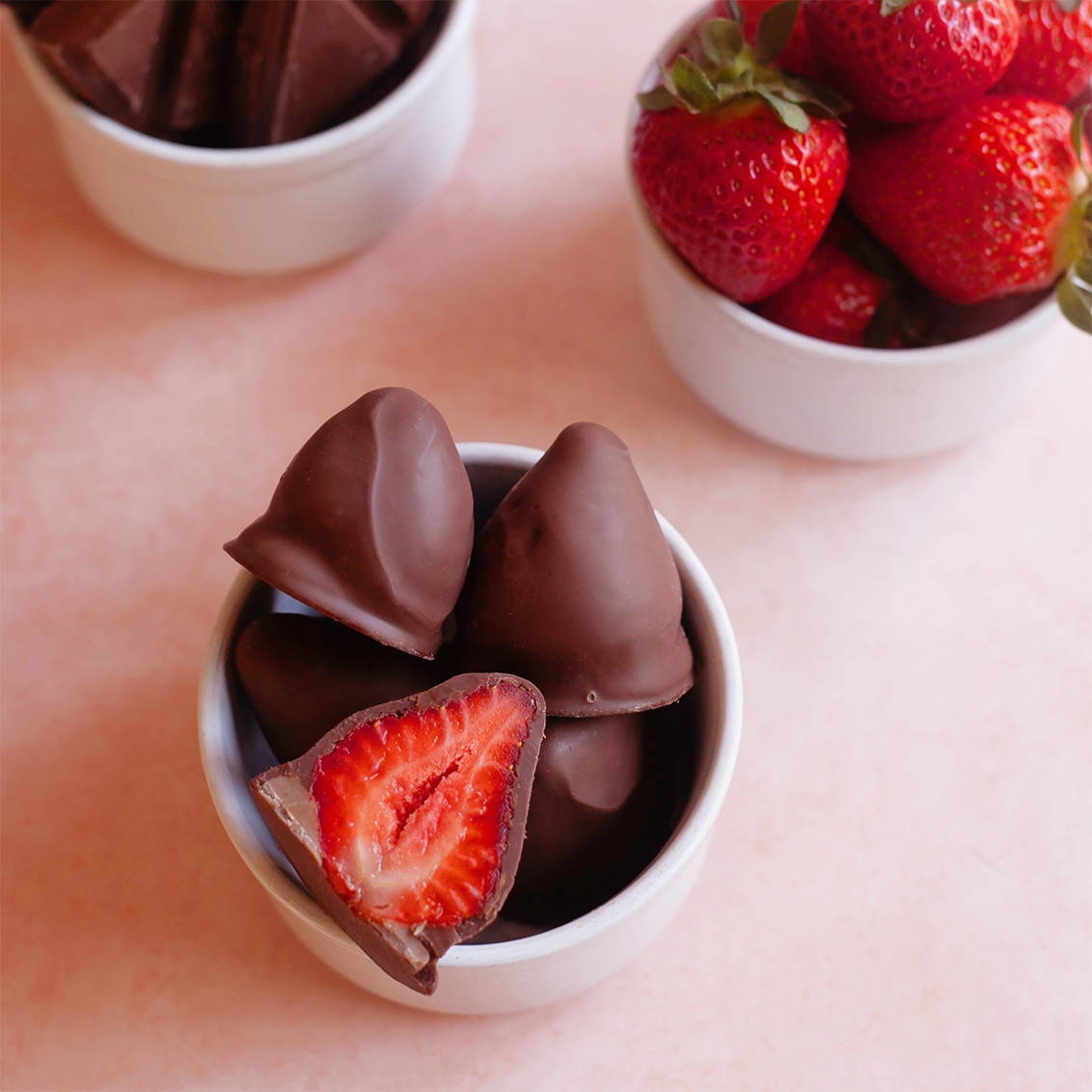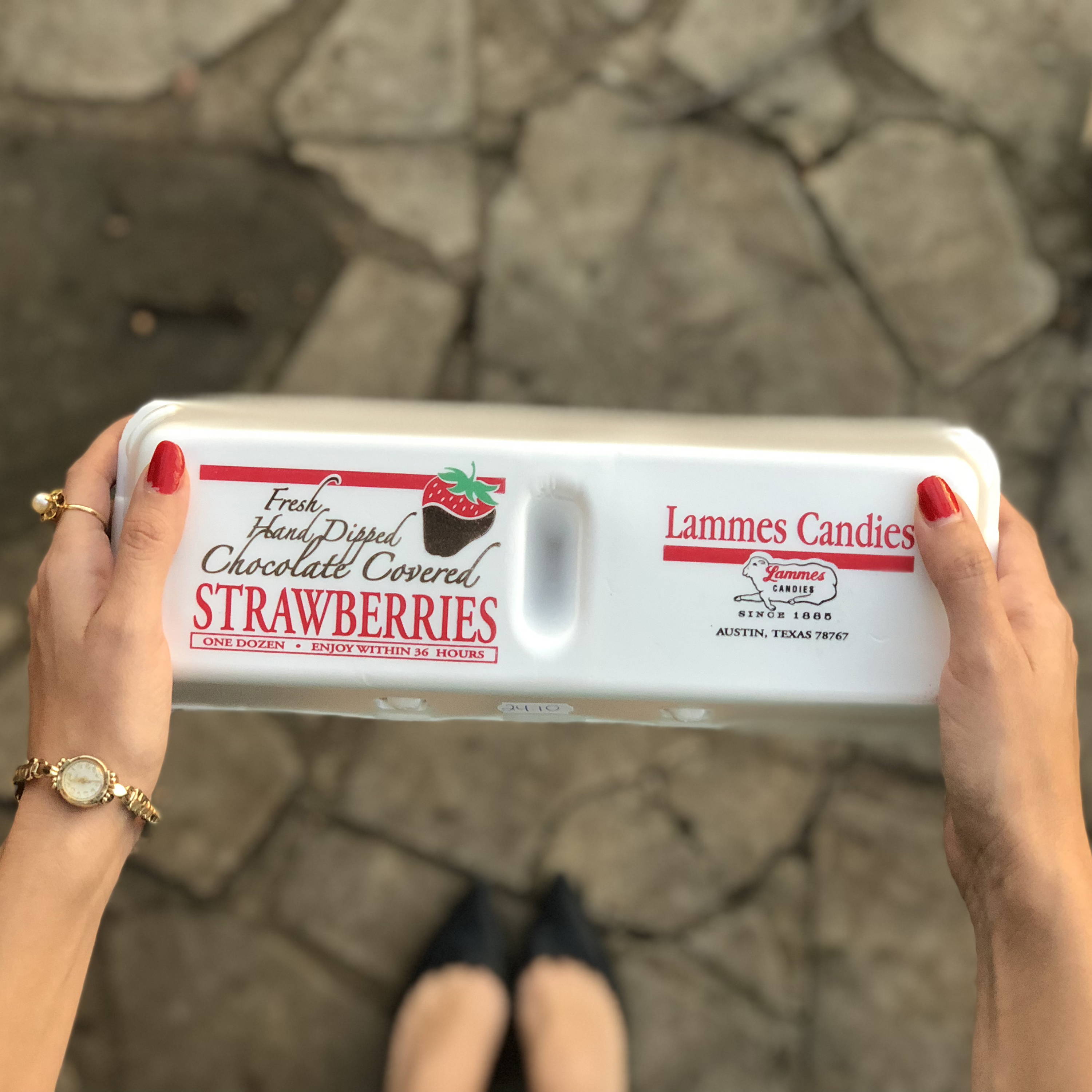 Fresh, stemless strawberries fully enrobed in premium Lammes milk chocolate - it's a delicious combination that Austinites have enjoyed for decades. Treat yourself and those you love to this classic, locally made treat. And don't forget Boss's Day is October 16!

We're open M-F, 8 AM to 5 PM. Outside of business hours, fill out our online form and we'll call back for payment.
The pre-order deadline has passed. Extra cartons will be available at the stores on Friday, Oct. 16 and are first-come, first-serve.
Leading up to the pickup date, you will receive an email confirming your order, pickup location, and any specific instructions.
Folks picking up at our Mall locations will need to go in-store with a face mask to pick up their order. For all other locations, simply park in the lot. We'll get your name and bring it out to your car! Tip: bring a cooler with you to prevent melting during travel.
We cannot guarantee that extra strawberries and grapes will be available at the store for purchase. Order now to secure your desired quantities.
October 16 from Noon to 5:30 PM
Airport Blvd (5330 Airport Blvd)
Hillside Center (2927 W Anderson Ln)
Round Rock Market (110 N Interstate 35 Frontage Rd #150)
Lakeline Mall (11200 Lakeline Mall Dr # F17)
Barton Creek Mall (2901 S Capital of TX Hwy)
What are your COVID-19 safety measures?
Lammes Candies sees the health and safety of its employees and customers as its top priority. To ensure the safety of all involved we are health screening all our employees before every shift, following the Texas Department of Health and Human Safety guidelines for curbside delivery, and taking every step possible to minimize direct contact between individuals.
Do I have to purchase an entire carton?
Yes. Individual chocolate covered strawberries will not be available for purchase. Each strawberry carton will be meet a minimum weight and contain a dozen milk chocolate covered strawberries or more. Once commerce returns to a more "normal" state, we will return to serving the number of strawberries you choose!
Can I add-on other confections to my pickup order?
Chocolate Covered Strawberry Add-Ons
When you pre-order chocolate covered strawberries, you can also add these popular confections:
1 lb. Texas Chewie Pecan Praline (15 Piece)
2 lb. Texas Chewie Pecan Praline (30 Piece)
12 oz. Milk Chocolate Longhorn (15 Piece)
12 oz. Dark Chocolate Longhorn (15 Piece)
To Order Bulk Candy and Other Items
If you would like to pick up a different item, including candies from our bulk counter, you will need to call our retail stores directly to place a separate curbside pickup order. You may pick up the order with your chocolate covered strawberries on Oct 16 or beforehand (let the retail associate know your preference). Just note that these will be 2 separate credit card transactions. You cannot order curbside chocolate covered strawberries through our retail stores, only by calling our Mail Order Department at (512) 310-1885 or by clicking here to fill out our online pre-order form.
To place a separate curbside pickup order at Airport Blvd, call (512) 453-2899
To place a separate curbside pickup order at Hillside Center, call (512) 645-2960
To place a separate curbside pickup order at Round Rock Market, call (512) 388-1885
Will the chocolate covered strawberries be fresh?
Yes! Our production team is producing these luscious treats early the morning of October 16 to assure maximum freshness.
How long will they be good to eat?
We suggest consuming these fresh confections within 36 hours - if they last that long :)
Should I refrigerate them?
No, we do not recommend refrigeration. Chocolate and moisture are mortal enemies and chocolate absorbs odors.
Will I be refunded if I don't pick up my order?
No. Chocolate covered strawberries not picked will be donated to a local charity. Refunds, exchanges, and store credits will not be issued. We appreciate your understanding!